__________________________________________________________________________________________________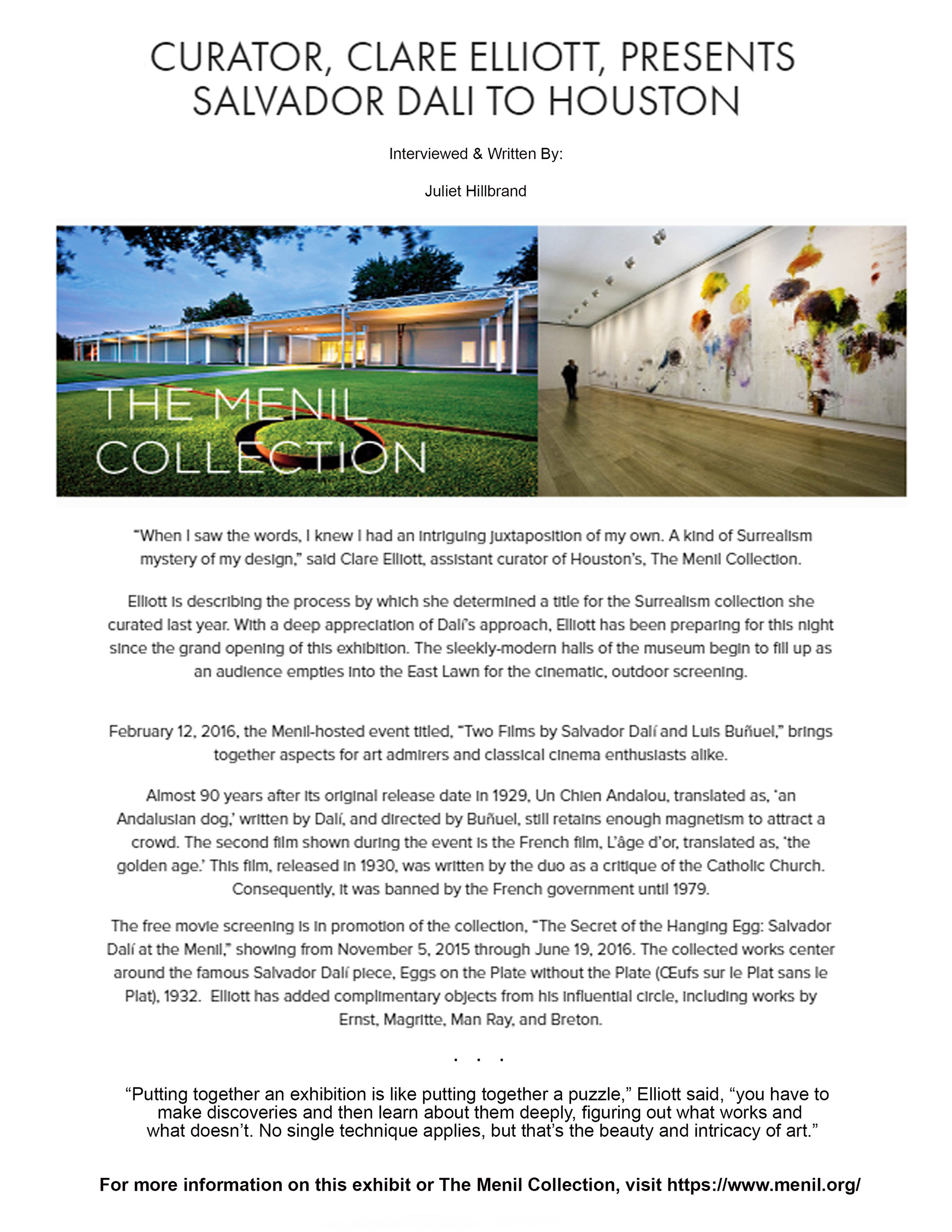 __________________________________________________________________________________________________

__________________________________________________________________________________________________
  The Benefits of Creativity
& the Psychology behind It
By: Juliet Hillbrand

            What is frequently noticed about the emergence of creative ideas is the tendency for it to happen when someone is thinking about nothing at all. For instance, driving down the highway, in the middle of a jog, in the shower, walking through nature, when suddenly an idea strikes with such clarity that one has to wonder why it never surfaced before.  Arguably, this is a common enough experience; yet it leads to the big question up for debate:
Are We All Creative Beings?
"Given that creativity is associated with flexibility in conceptualization and controlling existing thoughts, cognitive dispositions could predetermine the speed at which novel solutions emerge," said Dr. Hanako Yoshida of University of Houston's Department of Psychology. "Some people are potentially just better at this than others."
A study done by Edward Neckaa and Teresa Hlawacsb tested the theory of certain people being considered more creative than the general population. For the experiment they assembled 60 visual artists and 60 bank tellers, testing them on their temperament, in terms of personality and qualities like introversion/extraversion, as well as their ability to think divergently.
They found that artists and bankers actually tested quite similarly in temperament. However, "some artists scored higher in both temperament and divergent thinking. A few temperament traits that set creative thinkers apart from the bankers include: briskness, endurance, and activity," (Cheng 2014). Essentially the findings were that creative people were better able to think on their feet and adapt in especially stressful situations.
The opposing belief is that despite a minority being, 'subjectively more creative,' all of us possess creative capabilities.
"Every day in business we have to be flexible, open to new possibilities, and push past routine ways of thinking," said Randy Blank of Houston company, Jaguar Energy. "This is all creativity but I think we've become too narrow-minded in our thoughts on all this. People usually go right for the painters, writers, poets, but most people have the ability to think in creative terms."
The Infamous Creative Struggle:
The notorious, 'tortured artist,' embodies the collective face of mankind's historic struggle with creative endeavors. An obstacle commonly experienced within the creative process is known as, 'self-censorship.' This is defined as, 'being done out of fear or deference to the sensibilities or preferences of others.' The inner-voice of judgment is frequently responsible for confining one's creative nature, often out of fear of being judged, scrutinized, or rejected. 
"Life must be torture in order to create, right?  One must be a martyr to creativity, yes?  Sturm and Drang, angst, despair, misery, alcohol, drugs, cigarettes, debt, temperamental behaviors, martyrdom, etc.  Don't I have to be miserable, moody, or at the very least glamorously neurotic to live creatively?" said best-selling author Elizabeth Gilbert on the subject of creativity.
In her most recent book, 'Big Magic: Creative Living Beyond Fear,' she explores this tendency people have of making creative efforts into an overly-torturous act. She argues that we romanticize the pain and indulge in the belief that creativity has to be laborious to be authentic. According to Gilbert, "self-imposed suffering is something altogether unnecessary and counterproductive." 
The tortured-artist mentality, "could be due to the complex nature of what society defines creativities by and how one may have to depend their success on such a measure. Artistic people rely most heavily on the opinions of relevant experts, but even the experts' judgments are highly subjective," said Dr. Samuel Gosling, a Personality and Social Psychologist at the University of Texas.  
 "I've noticed that creative types are often not placed in leadership roles in business," said Blank. "Perhaps certain people are just bred to develop the creative ideas and others are more equipped to manage and execute them."
With this perspective on the creative-strife, it could be argued that society itself is against creativity.
Psychologists like to call the mundane perspective of approaching solutions, 'functional fixedness.' It is commonly seen in crowd psychology and occurs when subjects are viewing a topic through the same lens they consistently tend to approach things with.
When the commonplace sights and sounds of our everyday lives start to lose their distinctiveness over time, studies have proven that we can fall into a static pattern in how we perceive the world. Dr. Gosling said, "Basically, people often avoid creativity because it's easier to."
In spite of these factors, why go against the grain and dare to create?
The Overall Value of Creativity:
"It has been suggested that creative individuals employ a broadened rather than focused state of attention," Dr. Yoshida said. "Widened attention allows the individual to effectively collect information and connect unrelated concepts more easily. Thinking creatively is all about transforming the things you already know and accessing a broadened reach of your consciousness."  
When in a deep state of creation, it has been proven that a subject is less concerned about the success of the project, it's potential of being published, or any future presentation to the public. This is what psychologists like to call, "a state of flow."
Imagination and creativity are synonymous with, 'giving a personal sense of control over the external world,' said Dr. Yoshida. "It is potentially the best coping mechanism for making something positive out of a loss, bad experience, or even fighting depression."
Dr. Gosling argues that filtering your emotions into something physical is one of the best ways to deal with and process your emotions. "It tends to give people a greater sense of clarity, empathy for others, and potentially a heightened sense of individual growth."
Looking to the long-term effects of keeping the brain agile, studies done on older people that practice creativity regularly were found to stay healthier longer and enjoy their health more as they required less doctor visits, and less medication. They were reportedly, 'more outgoing with higher moral, more socially active, and more optimistic,' (Minarak 2013).
As a personal note to conclude on my relationship with creativity, I feel that my world is quite unimaginable without it. I dropped out of art school about a year ago and it may be one of the best things I've ever done for myself. I learned that I don't feel the joy of creating when it's being assigned to me, being told what I should paint and how to paint it. For me, creation is about the freedom to make mistakes, try new approaches, and translate emotion in a way that is best not prescribed to a rulebook.
"Creativity itself doesn't care at all about results - the only thing it craves is the process. Learn to love the process and let whatever happens next happen, without fussing too much about it," said Elizabeth Gilbert. "Work like a monk, or a mule, or some other representative metaphor for diligence. Love the work. It's all part of a long lifetime body of experimentation."
__________________________________________________________________________________________________

Twitter making trump
Trump Wrecking twitter

By: Juliet Hillbrand
01/19/17
I recall a time that twitter was seemingly the beckoned call of the masses. An answered cry that allowed the every-man (and woman *eh-hem*) a space to casually broadcast their day-to-day details. This digital ampliphone was collectively-decreed a safe space for a voicing of opinions, jokes, and a variety of personal anecdotes.
Without having a twitter for the first few years, I still know, It's everywhere. This world is highly aroused, influenced (and in some ways) sadly too-informed by the information they receive through their Twitter accounts.          
But without us even completely noticing, a man named Donald John Trump snuck under the curtain, got backstage, and began to stridently desecrate the once fundamental forum of Twitter.
With 34 thousand posts, he is anything but meek about the inner-workings of his mind. And by having 20 million followers with wide-open ears, this undeniably is a bit uncomforting whilst coming from the leader of our free world.
This open platform once felt like a techy-town square, a mingling point for community, media, and connection to occur. Through television shows, brands utilizing the effective draw of hashtags to target specific search words, and any other business entities that wanted to make their stance known - Twitter was the glorious podium that was outwardly dominating the interweb.
Trump's vigorous posting has certainly raised eyebrows, granted him many self-declared opportunities in the spotlight, and also created an uproar amongst the public. Some feel that a person of such power should be restricted from even possessing a social media account, for national safety, as a beginning point of concern.
Another group thinks that Trump should be monitored by an agent of some sort, or only post things related to national concern during the extent of his presidential term.
While of course, some don't give a rat's tush if he posts to Twitter or doesn't, and they're going to eat their cake and enjoy it right now too.
As we all learned early on in life, there are two sides to every argument.. And I suppose if we're getting empathetic, it could be argued that the president deserves a platform to speak his personal opinions through as well.
But I would like to argue that the president of the United States doesn't need to, (and more importantly shouldn't feel the need to) argue significant political matters through a social media forum with the entire country like it's open mic night, a public brainstorm session, or some informal get-together.. (Am I right?!)
A crucial affect that professionals in the marketplace should pay attention to here à This isn't helping to give Twitter a reputable name to be utilized for important messages. 'The Donald' is tainting the sacred common-ground of the social networking, making it a tower for him to shout from in his already established political upper-hand. 
Companies are getting more and more weary of how trustworthy the social network will be in the long-run for acquiring new business.
If the masses are afraid that Trump has cheapened the validity and the dependability that consumers hope to expect from reputable companies, it's bad news for all of us.
It is not a secret that Trump has produced accumulating amounts of hate speech. Some geared at political-foes, journalists and media entities, nations, and well, basically everyone at one time or another has been the target of one of his verbal outlashings, 34,000 posts later.. This desecration of how much 'opinion' one person is allowed to have, may be ruining it for the rest of us!
And Here's why: The highly unbalanced, unproductive, and petty actions are not what we've come to expect as a nation in the behavior of our leader, the person representing our home to the entire world.
It's not a very mind-exhausting mystery as to why Twitter has been on the decline in recent years, only increasing a single percent margin from 2015 to 2016.
The power of the people is seen through the use of this soapbox to preach their stance on our social condition, (even by deleting their accounts and voicing their stance through their personal silence).
Twitter deserves to be the harmless and readily available space for free-communication. It should be all it was intended and had the potential to be.  We own the right as humans to influence through free and non-hostile speech.
Hopefully Twitter doesn't turn into another ghost-town like Vine.. (Whoops, did I say that?)
Now, listen here….I'm not arguing that we all need to be righteous bloggers.. But we can disentangle from these hateful intentions, ready to speak our own truths.. And we should all feel d*#%-well pleased to be that righteous-blogger if we so desire!
One man does NOT make an entire social network a vandalized-territory.
Let us have the willpower to break away from giving Trump special privileges in his new position of power…
We own the right to our open discussion boards, to not have potential buyers scared off from this booming digital marketplace that we're lucky enough to be apart of, and most importantly –
Let us not allow ANYONE to rob us of our powerful voices.